Home



This work is supported by the Crop Protection and Pest Management Program, Extension Implementation Program Area award number 2017-700006-27146 from the USDA National Institute of Food and Agriculture.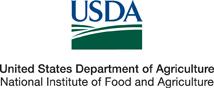 Any opinions, findings, conclusions, or recommendations expressed in this publication are those of the author(s) and do not necessarily reflect the view of the U.S. Department of Agriculture.
*TRADE NAMES ARE USED TO SIMPLIFY INFORMATION IN THIS TEXT. NO ENDORSEMENT IS INTENDED NOR IS CRITICISM IMPLIED OF SIMILAR PRODUCTS THAT ARE NOT NAMED. THE INFORMATION CONTAINED ON THIS WEBSITE IF FOR REFERENCE ONLY. READ AND FOLLOW ALL CHEMICAL LABEL INSTRUCTIONS. CONTACT YOUR COUNTY AGENT IF YOU NEED ASSISTANCE.